YouTube 4000 Watch Hours Calculator
In order to monetize your YouTube channel you need 4000 watch hours in the last 12 months. Use this free tool to work out how your new channel is going to reach this goal.
Incidentally you also need 1000 subscribers. Fortunately it's quite likely that you would reach this goal well before you hit 4000 watch hours, so that's what we need to focus on!
How to Reach That 4000 Watch Hours Goal
Encourage viewers to subscribe to your videos. How? By asking them! Remind them in the video, once at the start, and again shortly before the end.
Make longer videos. Although lots of creators are making shorts, these don't count towards your 4000 watch hours! Just bear in mind that longer videos aren't necessarily better. Watch some live TV news and notice how they get straight to the point. Learn how to edit your videos and remember the golden rule that you must make your video's content totally relevant to your thumbnail image.
Live streaming is one of the best ways to increase your watch hours total. For example I regularly watch 3 hour long live streams of Warzone gamers. Just think how much this would increase your average watch time. Don't worry if you don't have many subscribers - just 22 viewers watching you for an hour every other week would give you 572 hours watch time - nearly 15% of the total you need to get your channel monetized!.
Create tonnes of videos - by my calculations if I produced 22x as many videos for the Niche Laboratory channel then I would reach that 4000 hours threshold. That may seem a lot but that's less than 3 videos a week since I started my channel!
Go all out and increase the quality of your videos. Make them so awesome that people watch your entire video. If my videos were better and people watched an average of 6 minutes instead of 1.5 minutes then I would only need to add another 60 or so videos to reach my 4000 watch hours.
Instead of creating tonnes of new videos, just take a look in your Analytics and look for what your most popular content is. Once you've figured out what your audience likes the most, then make more videos like it. For example, if your unboxing videos are the most popular videos in your channel, then do more unboxings. Incidentally this is generally known as the 80/20 principal: you will probably find that 80% of your total watch hours come from just 20% of your videos. It's much the same if you're a blogger.
Focus on making timeless, evergreen content, i.e. videos that will be viewed month after month, year after year.
People love stories. Tell a story, and watch your engagement figures soar.
Show your face! Videos with a talking head generally do much better than one where you're just talking about what's happening on screen.
Also focus on user experience. The #1 reason I downvote videos and stop watching them is if the content doesn't match the thumbnail.
Remember you can change the End Screens of your videos which can help greatly with viewer retention. As you publish more videos you can go back to previous videos and alter the End Screen settings of previous videos to recommend related videos.
Be consistent with your channel. One channel = one topic is a great rule. Viewers are far more likely to subscribe if you have many videos on the same topic they're interested in.
Out of ideas? Use our Channel Ideas Generator to brainstorm new content ideas for your channel.
Do you also have a blog or other website? Make sure you embed your videos in your own sites. I get a good proportion of my total views from people watching videos embedded in my own websites.
Finally, check out our Rising YouTube Stars page to see some smaller channels with very high audience satisfaction. Then visit our page showcasing some of the channels with the least number of subscribers. While you're browsing, write down 10 bullet points for cool stuff that you spot people doing with their content, and 10 bullet points for things that really make you lose interest in their channel.
How to Find Your Channel Data
To find your channel's data you need to log in to YouTube Creator Studio.
Once you have logged in, go to the Creator dashboard. Your Views and Watch Time in the last 28 days are shown in the panel in the centre of the screen, like this: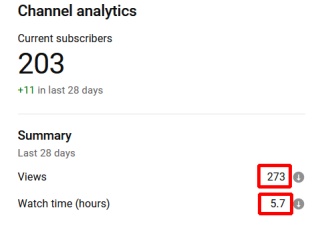 You also need to know how many videos you have. Find this by clicking on the Content link on the left hand side of the screen which will take you to the page listing all of your videos. Remember that only Public videos count towards your total. Shorts don't count either.
If you click on the Monetization link on the left hand side of the screen you will also see this Channel monetization dashboard which shows you how far you are along the road to getting your channel monetized. These are YouTube's own figures, so you should use these to keep a track of your progress towards getting your channel monetized.