YouTube Channels in the Bed And Breakfast Niche
17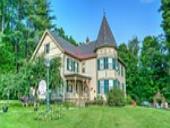 This page lists YouTube channels related to the bed and breakfast niche.
If you don't see too many relevant channels listed on this page then please do tell us about some channels in this niche by using the submit YouTube channel page. Alternatively why not start your own YouTube channel in this niche?
FindAChannel's Featured Channels showcases channels started in the last three years and which already have a strong following on YouTube. Be sure to check them out, as they're obviously doing something right on YouTube in 2021.
1. Viral Queens 100 videos 587,000 subscribers 397,031,831 total views 90.1 gravity $403005.74 estimated monthly earnings
Hey Guys, The videos that I post are not mine and I'm not making money of someones video, I just post them for fun for copyright issues please contact me at: viralqueens0@gmail.com ?
Channel started: February 2021.
2. Lemon Craft 88 videos 688,000 subscribers 145,900,891 total views 53.2 gravity $36461.69 estimated monthly earnings
Hey! you are on the Lemon Craft channel! This channel contains the funniest compilation of videos in minecraft. Do not forget to like and subscribe to the channel ! Nice viewing bro.
Channel started: March 2021.
Here is a list of more channels in the bed and breakfast niche. The most relevant channels are listed first.
To find WordPress and Blogger blogs in this niche, visit our sister site FindABlog.Net.
About the Bed And Breakfast Niche
A bed and breakfast is a small lodging establishment that offers overnight accommodation and breakfast. Bed and breakfasts are often private family homes and typically have between four and eleven rooms, with six being the average. In addition, a B&B usually has the hosts living in the house. Bed and breakfast is also used to describe the level of catering included in a hotel's room prices, as opposed to room only, half-board or full-board. Source: WikiPedia
Saki Says...
We have assigned this niche a popularity score of 60% and a competition score of 94%. The niche's overall potential is 16%. New channels we have found in the Bed And Breakfast niche upload an average of 0.3 videos per week and gain an average of 1,508 subscribers per week. Be warned that this is a VERY competitive niche, so check out our featured channels and see how they're managing to build their channels up.

The Bed And Breakfast niche was added to FindAChannel 17 April 2021 (Niche #775). The data for this niche was last updated 29 August 2021.