YouTube Channels in the Digital Marketing Niche
11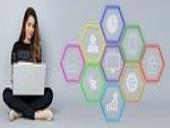 This page lists YouTube channels related to the digital marketing niche. Some of these channels focus exclusively on the digital marketing niche while others may only devote a few videos to it.
Be sure to scroll down to the bottom of the page to view our AI engine

SakiAI's verdict on how easy it could be to start a successful YouTube channel in this niche in 2023.
If you don't see too many relevant channels listed on this page then please do tell us about some channels in this niche by using the submit YouTube channel page. Alternatively why not start your own YouTube channel in this niche?
FindAChannel's Featured Channels showcases channels started in the last three years and which already have a strong following on YouTube. Be sure to check them out, as they're obviously doing something right on YouTube in 2023.
1. My Values 77 videos 33,800 subscribers 839,909 total views 70 gravity $42.41 estimated monthly earnings
Being successful isn't always the hardest thing in the world. It's equal parts luck and hard work. But adding value to something is a lot harder, There's nothing wrong with success, but oftentimes it's easy to lose sight of who you are when you're successful. If you keep your eyes on your own...
Channel started: January 2020.
Here is a list of more channels in the digital marketing niche. The most relevant channels are listed first.
To find WordPress and Blogger blogs in this niche, visit our sister site FindABlog.Net.
About the Digital Marketing Niche
Digital marketing is the component of marketing that utilizes internet and online based digital technologies such as desktop computers, mobile phones and other digital media and platforms to promote products and services. Its development during the 1990s and 2000s, changed the way brands and businesses use technology for marketing. As digital platforms became increasingly incorporated into marketing plans and everyday life, and as people increasingly use digital devices instead of visiting physical shops, digital marketing campaigns have become prevalent, employing combinations of search engine optimization, search engine marketing, content marketing, influencer marketing, content automation, campaign marketing, data-driven marketing, e-commerce marketing, social media marketing, social media optimization, e-mail direct marketing, display advertising, e–books, and optical disks and games have become commonplace. Source: WikiPedia
Saki Says...
We have assigned this niche a popularity score of 98% and a competition score of 94%. The niche's overall potential is 7%. New channels we have found in the Digital Marketing niche upload an average of 0 videos per month and gain an average of 24 subscribers per month. Be warned that this is a VERY competitive niche, so check out our featured channels and see how they're managing to build their channels up.

The Digital Marketing niche was added to FindAChannel 14 April 2021 (Niche #49). The data for this niche was last updated 09 January 2023.