YouTube Channels in the Dog Clothes Niche
22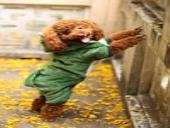 This page lists YouTube channels related to the dog clothes niche.
If you don't see too many relevant channels listed on this page then please do tell us about some channels in this niche by using the submit YouTube channel page. Alternatively why not start your own YouTube channel in this niche?
FindAChannel's Featured Channels showcases channels started in the last three years and which already have a strong following on YouTube. Be sure to check them out, as they're obviously doing something right on YouTube in 2021.
1. Adorable Darling 30 videos 31 subscribers 3,101 total views
#itsmyAdorableDarling is an online Pet Supply Shop especially created for pet owners and pet lovers. Visit our site at
Channel started: October 2019.
Here is a list of more channels in the dog clothes niche. The most relevant channels are listed first.
To find WordPress and Blogger blogs in this niche, visit our sister site FindABlog.Net.
Saki Says...
We have assigned this niche a popularity score of 37% and a competition score of 94%. The niche's overall potential is 20%. New channels we have found in the Dog Clothes niche upload an average of 0 videos per month and gain an average of 0 subscribers per month. This niche is pretty competitive in 2021 but with hard work and some top quality content you could do well.

The Dog Clothes niche was added to FindAChannel 24 April 2021 (Niche #1530). The data for this niche was last updated 02 October 2021.