YouTube Channels in the Dog Food Niche
14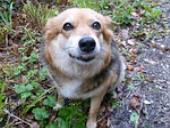 This page lists YouTube channels related to the dog food niche. Some of these channels focus exclusively on the dog food niche while others may only devote a few videos to it.
Be sure to scroll down to the bottom of the page to view our AI engine

SakiAI's verdict on how easy it could be to start a successful YouTube channel in this niche in 2023.
If you don't see too many relevant channels listed on this page then please do tell us about some channels in this niche by using the submit YouTube channel page. Alternatively why not start your own YouTube channel in this niche?
FindAChannel's Featured Channels showcases channels started in the last three years and which already have a strong following on YouTube. Be sure to check them out, as they're obviously doing something right on YouTube in 2023.
Here is a list of more channels in the dog food niche. The most relevant channels are listed first.
To find WordPress and Blogger blogs in this niche, visit our sister site FindABlog.Net.
About the Dog Food Niche
Dog food is food specifically formulated and intended for consumption by dogs and other related canines. Dogs are considered to be omnivores with a carnivorous bias. They have the sharp, pointed teeth and shorter gastrointestinal tracts of carnivores, better suited for the consumption of meat than of vegetable substances, yet also have 10 genes that are responsible for starch and glucose digestion, as well as the ability to produce amylase, an enzyme that functions to break down carbohydrates into simple sugars - something that carnivores lack. Dogs evolved the ability living alongside humans in agricultural societies, as they managed on scrap leftovers from humans. Dogs have managed to adapt over thousands of years to survive on the meat and non-meat scraps and leftovers of human existence and thrive on a variety of foods, with studies suggesting dogs' ability to digest carbohydrates easily may be a key difference between dogs and wolves. Source: WikiPedia
Saki Says...
We have assigned this niche a popularity score of 71% and a competition score of 94%. The niche's overall potential is 12%. New channels we have found in the Dog Food niche upload an average of 0 videos per month and gain an average of 8 subscribers per month. Be warned that this is a VERY competitive niche, so check out our featured channels and see how they're managing to build their channels up.

The Dog Food niche was added to FindAChannel 14 April 2021 (Niche #153). The data for this niche was last updated 13 January 2023.