YouTube Channels in the Hair Styling Niche
28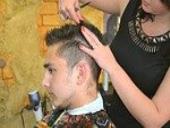 This page lists YouTube channels related to the hair styling niche. Some of these channels focus exclusively on the hair styling niche while others may only devote a few videos to it.
Be sure to scroll down to the bottom of the page to view our AI engine

SakiAI's verdict on how easy it could be to start a successful YouTube channel in this niche in 2023.
If you don't see too many relevant channels listed on this page then please do tell us about some channels in this niche by using the submit YouTube channel page. Alternatively why not start your own YouTube channel in this niche?
FindAChannel's Featured Channels showcases channels started in the last three years and which already have a strong following on YouTube. Be sure to check them out, as they're obviously doing something right on YouTube in 2023.
1. Perfect and Beautiful 834 videos 1,000,000 subscribers 652,260,405 total views 65.9 gravity $30734.30 estimated monthly earnings
??Hlw Everyone....???? Welcome to my YouTube channel......???? ??Subscribe my channel for instresting fashions Videos .....???? ??And also press the bell icon to never miss notification.....?? ??Stay tuned ?? ??1 Subscribers complete ?? ??10 Subscribers complete ?? ??100 Subscribers complete...
Channel started: June 2021.
2. The Beauty Hub 15,980 videos 4,160,000 subscribers 66.2 gravity
??Welcome To The Beauty Hub?? I Share Makeup, Hairstyles, Diy, Remedies, Tips & Tricks, Makeup Hacks, Salon Secrets, Hair Cutting, Lifestyle, Products Review, Unboxing, And Many More So Subscribe, ?????? I Hope You Will Enjoy All Videos. I really Happy To Share With You And Want To Make All Of...
Channel started: March 2021.
Here is a list of more channels in the hair styling niche. The most relevant channels are listed first.
To find WordPress and Blogger blogs in this niche, visit our sister site FindABlog.Net.
Saki Says...
We have assigned this niche a popularity score of 20% and a competition score of 94%. The niche's overall potential is 24%. New channels we have found in the Hair Styling niche upload an average of 4.1 videos per week and gain an average of 1,347 subscribers per week. This niche is pretty competitive in 2023 but with hard work and some top quality content you could do well.

The Hair Styling niche was added to FindAChannel 16 April 2021 (Niche #596). The data for this niche was last updated 17 November 2023.