YouTube Channels in the Japanese Culture Niche
38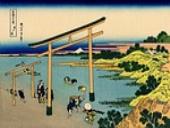 This page lists YouTube channels related to the japanese culture niche. Some of these channels focus exclusively on the japanese culture niche while others may only devote a few videos to it.
Be sure to scroll down to the bottom of the page to view our AI engine

SakiAI's verdict on how easy it could be to start a successful YouTube channel in this niche in 2023.
If you don't see too many relevant channels listed on this page then please do tell us about some channels in this niche by using the submit YouTube channel page. Alternatively why not start your own YouTube channel in this niche?
FindAChannel's Featured Channels showcases channels started in the last three years and which already have a strong following on YouTube. Be sure to check them out, as they're obviously doing something right on YouTube in 2023.
1. Japan Go! 45 videos 68,800 subscribers 11,275,234 total views 69 gravity $290.79 estimated monthly earnings
Discover all the latest attractions, anime & game stuff, cutting-edge technology, and inspirational stories from Japan. Yasu and Julian will show you how to "Enjoy Japan like a Pro"! Yasu
Channel started: November 2019.
2. Samurai & Ninja Museum Kyoto Fans 92 videos 73,300 subscribers 35,258,355 total views 90.3 gravity $1524.44 estimated monthly earnings
We are a group of foreigners and Japanese who live in Kyoto Japan. This channel is about the culture, travel and life in Japan. We shoot some of the videos at the Samurai & Ninja Museum Kyoto (https
Channel started: March 2021.
Here is a list of more channels in the japanese culture niche. The most relevant channels are listed first.
To find WordPress and Blogger blogs in this niche, visit our sister site FindABlog.Net.
About the Japanese Culture Niche
The culture of Japan has changed greatly over the millennia, from the country's prehistoric Jōmon Period, to its contemporary modern culture, which absorbs influences from Asia and other regions of the world. Japan's indigenous culture originates primarily from the Yayoi people who settled in Japan between 1000 BCE and 300 CE. Yayoi culture spread to the main island of Honshū, mixing with the native Jōmon culture. Modern Japanese have an estimated 80% Yayoi and 20% Jōmon ancestry. Japanese culture was influenced from ancient times to the Middle Ages primarily by multiple Chinese dynasties and to a lesser extent by other Asian countries. For example, one of the alphabets for writing in the Japanese language is Chinese characters, but Japanese has no genetic relationship with Chinese. Since the Meiji period Japan has been primarily influenced by western countries. Source: WikiPedia
Saki Says...
We have assigned this niche a popularity score of just 5% and a competition score of 54%. The niche's overall potential is 34%. New channels we have found in the Japanese Culture niche upload an average of 0.5 videos per week and gain an average of 114 subscribers per week. This is a fairly competitive niche but if research your market and have some fresh ideas you could do okay.

The Japanese Culture niche was added to FindAChannel 18 April 2021 (Niche #895). The data for this niche was last updated 13 February 2023.