YouTube Channels in the Web Development Niche
16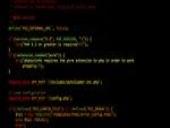 This page lists YouTube channels related to the web development niche. Some of these channels focus exclusively on the web development niche while others may only devote a few videos to it.
Be sure to scroll down to the bottom of the page to view our AI engine

SakiAI's verdict on how easy it could be to start a successful YouTube channel in this niche in 2023.
If you don't see too many relevant channels listed on this page then please do tell us about some channels in this niche by using the submit YouTube channel page. Alternatively why not start your own YouTube channel in this niche?
FindAChannel's Featured Channels showcases channels started in the last three years and which already have a strong following on YouTube. Be sure to check them out, as they're obviously doing something right on YouTube in 2023.
1. the roadmap 39 videos 121,000 subscribers 592,115 total views 76.7 gravity $19.98 estimated monthly earnings
The roadmap features the best online web development and programming lectures for all sorts of computer science knowledge and for the latest web technologies including System Design, Databases, FullStack Development, and much more. Also, check out the project website at https://roadmap.sh
Channel started: March 2020.
Here is a list of more channels in the web development niche. The most relevant channels are listed first.
To find WordPress and Blogger blogs in this niche, visit our sister site FindABlog.Net.
About the Web Development Niche
Web development is the work involved in developing a Web site for the Internet or an intranet. Web development can range from developing a simple single static page of plain text to complex web applications, electronic businesses, and social network services. A more comprehensive list of tasks to which Web development commonly refers, may include Web engineering, Web design, Web content development, client liaison, client-side/server-side scripting, Web server and network security configuration, and e-commerce development. Among Web professionals, Web development usually refers to the main non-design aspects of building Web sites: writing markup and coding. Web development may use content management systems to make content changes easier and available with basic technical skills. For larger organizations and businesses, Web development teams can consist of hundreds of people and follow standard methods like Agile methodologies while developing Web sites. Source: WikiPedia
Saki Says...
We have assigned this niche a popularity score of 76% and a competition score of 94%. The niche's overall potential is 12%. New channels we have found in the Web Development niche upload an average of 0 videos per month and gain an average of 85 subscribers per month. Be warned that this is a VERY competitive niche, so check out our featured channels and see how they're managing to build their channels up.

The Web Development niche was added to FindAChannel 14 April 2021 (Niche #42). The data for this niche was last updated 27 October 2023.