YouTube Channels in the Science And Technology Niche
16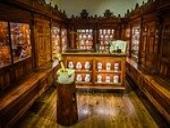 This page lists YouTube channels related to the science and technology niche. Some of these channels focus exclusively on the science and technology niche while others may only devote a few videos to it.
Be sure to scroll down to the bottom of the page to view our AI engine

SakiAI's verdict on how easy it could be to start a successful YouTube channel in this niche in 2023.
If you don't see too many relevant channels listed on this page then please do tell us about some channels in this niche by using the submit YouTube channel page. Alternatively why not start your own YouTube channel in this niche?
FindAChannel's Featured Channels showcases channels started in the last three years and which already have a strong following on YouTube. Be sure to check them out, as they're obviously doing something right on YouTube in 2023.
1. knowledge sansar science and technology 142 videos 40,200 subscribers 34,360,765 total views 77.2 gravity $5674.55 estimated monthly earnings
If you want to see airplanes fighter jet plane .aircraft anything which can fly you can subscrib our channel for this..we will try our best to show you your choices videos from anywhere in the world it's our promise.we will show you army, airforce ,nasa ,airport ,airplanes,aircrafts,science and...
Channel started: February 2022.
Here is a list of more channels in the science and technology niche. The most relevant channels are listed first.
To find WordPress and Blogger blogs in this niche, visit our sister site FindABlog.Net.
About the Science And Technology Niche
Science and technology is an interdisciplinary topic encompassing science, technology, and their interactions: • Science is a systematic enterprise that builds and organizes knowledge in the form of explanations and predictions about nature and the universe. • Technology is the collection of techniques and processes used in the production of goods or services, or the accomplishment of objectives such as scientific investigation. Source: WikiPedia
Saki Says...
We have assigned this niche a popularity score of 64% and a competition score of 94%. The niche's overall potential is 15%. New channels we have found in the Science And Technology niche upload an average of 0 videos per month and gain an average of 185 subscribers per month. Be warned that this is a VERY competitive niche, so check out our featured channels and see how they're managing to build their channels up.

The Science And Technology niche was added to FindAChannel 14 April 2021 (Niche #211). The data for this niche was last updated 15 January 2023.