Top YouTube Animators
These are some of the interesting animator YouTubers with channels listed on FindAChannel. Go check them out and see what they're doing with their animated channels in 2023.
Note: this list excludes many animation channels aimed at younger kids. While this demographic LOVE animations, channels aimed at this market aren't necessarily lucrative. While kids absolutely love watching the same animations repeatedly, this isn't always a good thing for a channel because viewers can of course only 'Like' a video once. Speaking of 'Likes' - kids don't generally hit that like button so these channels don't achieve such high values for our channel Gravity scores. One other factor worth considering is that channels aimed at kids are likely to generate much lower advertising revenue since kids can't actually buy anything (and in many countries you're not supposed to actively market to them either).
Making Money on YouTube With Animations
Within this list there are three main types of animation video:
General interest entertainment video channels.
Specialised explainer channels that use animations to explain technical topics.
Videos about how to use specific animation software packages.
Animation Tutorials
Let's get the third category out of the way first. Software tutorials are very popular on YouTube, and are largely replacing blog based tutorials (honestly, when was the last time you actually read a blog?). Animation software is really complex (I was once tasked with an assignment to do something with phenomenally complex Blender 3D rendering package), so there is endless scope for making tutorials about every aspect of the software. If you want to make animation tutorial videos then doing a little basic keyword research can really save a lot of time. If you primarily make videos about what people are actually searching for, you'll generally grow your channel a lot more quickly (especially if you're a new channel). The way to do this is to simply put in a seed keyword into the YouTube search box and see what pops up in the way of suggestions: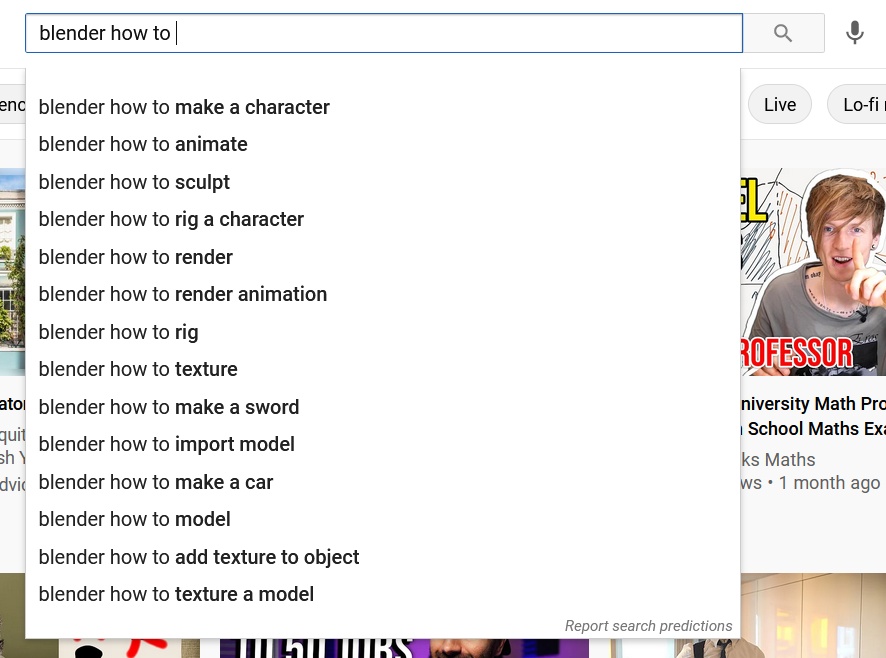 So as you can see from the above, my Blender channel could cover how to make a 3D sword and also a car. Incidentally it's also worth checking the search results for a particular query. If there are already half a dozen great tutorials on how to make a 3D sword in Blender, then we're likely wasting our time. In this case it's best to choose another keyword to base a video tutorial about.
Animated General Entertainment Videos
Although there are plenty of business focused videos on YouTube, it's important to bear in mind that YouTube is primarily an entertainment platform. You can see this reflected in our list of the 100 most viewed YouTube channels.
So how can animators get a slice of this very lucrative market?
If you're a regular visitor to our extensive lists of lucrative YouTube niches then you'll notice that story-type niches appear quite regularly. Even more encouraging is that our algorithm generally considers these niches to have quite a low competition and popularity rating. This means that there's a good chance that a new animated channel in the storytelling niche will likely do pretty well.
So what types of storytelling niche are good?
One example I like to give is the keyword Animated Horror Stories. Click through and you'll find a number of example channels that are doing very well with animated horror stories. At the time of writing, FindAChannel was showcasing three particularly good channels, as shown in the screenshot below:

Click the image above to view the latest high rated channels in the animated horror stories niche.
What's really encouraging is that all three were started less than 2 years ago but have already achieved some impressive metrics. For example, all three have over 200,000 subscribers and millions of views.
These channels can acquire a loyal following. I had a phase of watching the Fascinating Horror channel every lunchtime. While not an animated channel, this is a great example of a topic that would work very well as an animated channel. The other advantage of using animation software to create these videos is that it very much reduces the potential of a copyright claim arising through the use of other peoples' video footage.
While creating a story-based animation channel it's often a good idea to stick to topics you know well. For example stories of Indian folklore are very hot right now.
Animated Explainer Videos
Explainer videos can generate huge numbers of views, especially if they are in the broad interest niche. For example the Cheddar explainer channel seems destined to become a super popular channel. While Cheddar isn't an animated channel, it could work very well if it was one.
The Bisbo channel has racked up millions of video views by explaining topical news stories through the medium of animation. Another niche that can work very well as animated videos is military history - The Operations Room is a particularly good example of a channel uses animations to re-enact significant battles from history.
Another niche that works well as animated videos is language learning. I've worked as an English language teacher and regularly used to show YouTube language videos to my students. A great example of an animated language learning channel is Chinese Buddy. Some of their videos have racked up over a million views. The other good thing about the language tuition niche is that it's evergreen, so your videos will rack up views for years after they're produced.
There's room on YouTube for very different animation styles, and you don't even need to be a talented animator in order to make an animated YouTube channel. For example the Animated Stats channel had racked up nearly 60 million video views at the time of writing by basically turning Excel spreadsheets of data into animated charts. There are quite a few of these Bar Chart Race type of channel and they were a smash hit in 2019. These charts are easy to create with some data and a bit of data wrangling in Flourish Studio. If you're interested in these types of channel then check out Data Tuber and Data Watch.
So as you can see from these examples, animated videos are very popular on YouTube. Will 2023 be the year you start your own YouTube animations channel?
This list of popular YouTube animators was last generated 09 December 2023 20:37. This list is regularly updated.